Artist Statement
Life is my passion and photography is my expression.
Through the use of the camera, I've learned how to "see" without the camera; yet the more of life I see, the greater my desire to express.
Biography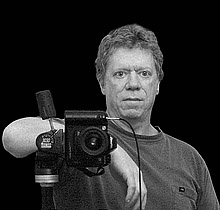 My initial introduction to photography was as a child, helping my father develop prints in his basement darkroom and watching him hand color his finished prints for friends and family.
While growing up, and into early adulthood, my penchant for expression was through drawing; and as time went on, charcoal painting became my primary medium. Charcoal painting, however, left a poor impression on my hands (fingernails in particular) and I had to give it up upon entering massage school.
Not long after becoming licensed as a massage therapist (and finishing graduate school), I decided to expand my holistic practice by renting professional space previously occupied by a doctor. This former doctor's office came with a darkroom that had been used to develop X-rays. It also had a room large enough to use as a photography studio and it did not take long for me to begin a sideline in black and white photography.
My use of lighting and darkroom work was based on what I had learned from using charcoal and my initial work was with portrait and figure photography.
Since that time, I've been accepted as a juried artist member in the New Hampshire Art Association, a member of the New Hampshire Society of Photographic Artists, and have won numerous awards from the Manchester Artists Association. My prints have also been selected into many juried photography and art exhibitions and displayed in businesses and art galleries throughout the region including the Currier Museum of Art, the Robert Lincoln Levy Gallery, and the New Hampshire Institute of Art.
My published work includes images in Today's Photographer Magazine, Photographers Forum's Best of Photography Annuals (ten consecutive years), the International Library of Photography, Massage Magazine, Cutting Tool Engineering, Massage Warehouse Catalog, and many online publications and websites.
Currently, I am in transition from film and wet-darkroom photography to digital photography and the digital darkroom ... yes, I've gone over to the dark side!