Therapeutic Massage & Bodywork
If you're looking for a light 'fluff and buff' spa-type massage, that is not what I do.
If you want to reduce or eliminate back pain, neck pain, shoulder, arm, hand, leg, or foot pain; or improve athletic performance, posture, or simply return to your normal self after an injury or after a period of prolonged inactivity, I can help.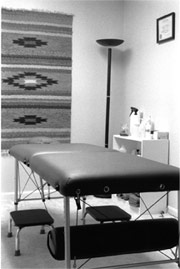 For more than twenty years, I've specialized in Therapeutic and Maintenance bodywork.
The principal bodywork modalities I use are Myofascial Mobilization and Neuromuscular Therapy; but unlike many others who specialize in the same, I am also trained and experienced in applying Positional Release and other Proprioceptive Techniques for those who are in severe pain and for those who simply do not like deep tissue massage.
My pride lies in the fact that most of my bodywork clients experience significant improvement, often after their first session.
Please contact me by phone or email to find out if what I do might work for you.